ANTÒ Son of Pop by Catherine PEYRE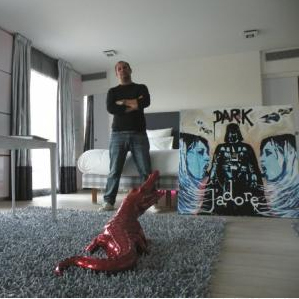 ANTO lives and paints in Calvi, Corsica. A James Bond, Tim Burton, Batman and cohorts fan, a child of the seventies with subversive poetry nailed to his heart. Nourished with pop culture, there are no limits to his social provocation and cutting irony. With a permanent laser eye plugged into advertising, film, music, comics, mangas and the news… and a passionate curiosity for everything that communicates.
Anto works with acrylics as one would work with oils, with simple and direct forms that don't fall into a decorative register. He creates wry slogans (Pimp my Fiat), irreverently hijacks film heroes (Lynch me I'm famous, Banana Trip: Quentin who? La Force G refers to George Clooney), music (B on C)… Capital talent, he also shakes up our neurons with insolent religious allusions (Al Capote, Vierge à l'Ipod…). Above all Anto delivers his agitated gut reactions, his current picks in a frontal and radical manner, but also offers sensitive homage (to Marilyn or Gainsbourg). And we love it!
Anto loudly and clearly vindicates freedom and spontaneity with his brushes and cheeky declarations. And his jubilation is contagious. He jabs where it hurts but wraps it up with the lightness of those who intensely love and respect life. With crazy titles and syntax with an additional high derision coefficient, Anto's work traces impish perspectives like so many stony answers delivered with the mental intention that can't be fooled. A Corsican pop art pioneer, part of a new generation of artists that goes beyond the local folklore, presenting global messages. Poking fun at the orthodox symbols and traditions of Corsica without scraping the soul; that's his force, mixing Corsican and international cultures, in this place where he fits in!